Peridot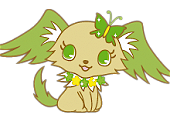 Jewel
Gender Female
Species
Papillon
First Appearance
Episode 1
Magical Status Glass Level
Magical Eye Colour Magical Green
Peridot appear in the Episode 1 of Jewelpet Candado. Where she seat next to Herman while she play her Boboiboy toys, She saw Topaz sleeping and hugging Herman that's why she capture them via Jewel Pod  and upload the picture to the internet. But she doesn't notice their is a bomb on her seat which Jasper  remind them, But Jasper silence since their are not allowed to bomb-joke on anyone.
Community content is available under
CC-BY-SA
unless otherwise noted.